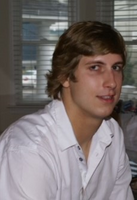 Andrew J. Donohue
Andrew Donohue, age 33 of Merchantville, passed away on August 8, 2022.
Andrew Donohue was born and raised in Merchantville, New Jersey, a small town in the southern part of the state. He was tall, smart, charming, and outgoing. In his core, he had a wonderful soul and would never hurt anyone, bully anyone emotionally or physically. He could and would make friends in an instant. People absolutely loved him, and many considered him one of their closest friends. He spent his youth in the local area with friends and family where his personality and spirit stood out.
Andrew was quick to volunteer whether it be at the local school, firehouse and with community projects. He could and would work tirelessly and always wound up in the middle of things.
Andrew had a gift for computers and was employed as an IT professional. He worked in technology at Synygy, Thomas Jefferson Hospital, The Annenberg School at the University of Pennsylvania among other places. He could also fix anything mechanical, and frequently helped his friends with their vehicles while he was busy rebuilding his Ford F-250 and other vehicles he owned.
Andrew's last act and gift to the world was that as an organ donor, enabling him to save or improve the lives of many others.
Andrew is survived by his parents, Kris and Michael, his siblings Sean and Laura, his sister-in-law Julia, 14 aunts and uncles, 22 cousins, and many, many friends. All share delightful, wonderful memories of the good times.
Relatives and friends are invited to the Visitation on Saturday, August 13, 2022 from 10 AM - 12 PM at the Falco, Caruso & Leonard Pennsauken Funeral Home, 6600 N. Browning Road, where a Celebration of Life will be held at 12 PM.
Donations can be sent to the Niagara Fire Company, 22 W. Park Ave, Merchantville, NJ 08109