Falco, Caruso & Leonard Covid-19 Resources
UPDATED DECEMBER 31, 2021
To the families that we serve:
Our staff is here to assure you that we will continue to serve our community and that the health and safety of the families we serve as well as our staff and associates remain a top priority.
Effective Friday, May 28, 2021 the indoor wearing of masks and six-foot social distancing requirements became optional during all New Jersey funerals and memorial events. The following Friday, June 4, capacity limits are no longer required in New Jersey funeral homes and places of worship.
Although these three restrictions cease to be mandated on May 28 and June 4, individual funeral homes and places of worship may still request or require that the public adhere to safety protocols of their own choosing. Each family will be asked while making arrangements if they would like to still require masks and/or social distancing for their specific funeral services. We feel each family should have the ability to choose to have our staff enforce these options if they would like us to do so. We also ask that guests please respect the choices of the families we are serving.
The NJ Department of Health and Vault Medical Services have partnered to offer a free, at-home COVID-19 saliva test kit that is available to every New Jerseyan who thinks they need a test – even if you don't have symptoms.
To order a free test kit, visit learn.vaulthealth.com/nj
To receive a free test, you must visit Vault through the NJ-specific link above. If the website asks for your credit card, close out of your browser and try again in an incognito/private browser. Shipment is free only to New Jersey mailing addresses. The kit will be shipped through UPS with next-day delivery. Once received, you will connect over Zoom with a Vault healthcare professional who will walk you through the test and answer your questions.
When complete, the test can be sent back in a prepaid package via UPS next-day shipping. You will receive your test results 24 to 48 hours after your sample arrives at the lab. You will not be charged for the test, and you will not be asked for your credit card information.
COVID-19 testing is also available at many locations throughout the state.

Click Here for how to get tested.
If you are feeling sick or showing symptoms, we ask for the safety of the families we are serving, you please get tested and stay home until you receive a negative result. It is our best intentions to not only protect the families that we serve, but our staff as well and those who come to pay their respects.

We are proud of our 10,000 square foot Pennsauken Funeral Home that allows us to accommodate 375 people comfortably. We are also proud of our Hand Wash Station located off the side foyer of our Pennsauken Funeral Home. At the start of the pandemic, we took immediate initiative make this addition to our funeral home to ensure the safety of the families we serve, visitors, and our staff. We have also installed numerous hand sanitation pumps throughout the funeral home.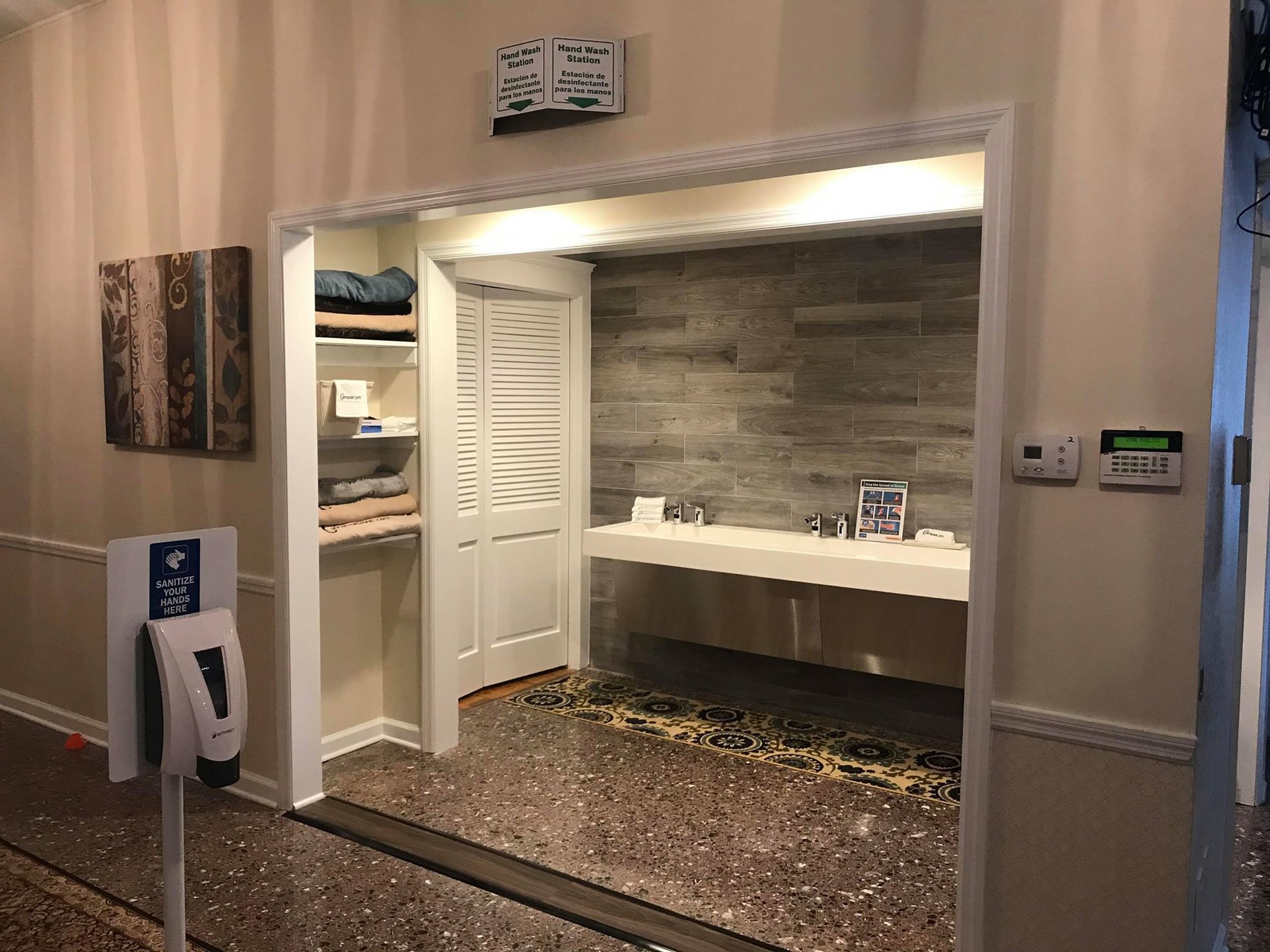 For funeral planning, we can guide you in person, via phone and/or electronically. We have invested through the years in state of the art technology that will allow our families to share their services with friends and loved ones over the internet for an enhanced memorial gathering.
FEMA COVID-19 Funeral Assistance
Under the Coronavirus Response and Relief Supplemental Appropriations Act of 2021 and the American Rescue Plan Act of 2021, Congress authorized FEMA to provide financial reimbursement assistance to individuals who incurred COVID-19-related funeral expenses after January 20, 2020.
COVID-19 Funeral Assistance Line Number (Applications begin on April 12, 2021)
844-684-6333 | TTY: 800-462-7585
Hours of Operation:
Monday - Friday
6 a.m. to 6 p.m. Pacific Time
FEMA has issued its final policy – which includes details such as eligibility and documentation criteria and the application process – for how funds will be distributed to families. Most notably, FEMA shared that the maximum financial assistance will now be $9,000 per funeral.
Please note this is a reimbursement of funds.
Payment in full to the funeral home prior to application is required in order to be reimbursed of any funds through FEMA.
Resource information provided by and more information available at:
https://www.fema.gov/disasters/coronavirus/economic/funeral-assistance