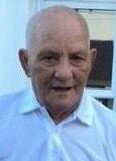 Obituary of Narciso Jimenez
Narciso Jimenez, age 94 of Pennsauken, passed away on April 19, 2022.
Beloved husband of Cecilia Jimenez (nee Rodriguez). Devoted father of Virginia, Ynoncecio, Sotero, Yrene, Maria, Miledys, Evelin, Rosa, Juana, Angela, and Oscar. Loving grandfather and great grandfather of many.
Narciso worked as a farmer for most of his life. He loved his farm and the animals he had on it, especially his cows. Narciso enjoyed playing dominos, playing the lottery, and visiting Caballeros. He liked watching the news and Family Feud and was a big fan of Steve Harvey. Narciso had a love for food, including his coconut water. He will be missed by all who knew him.
Relatives and friends are invited to the Visitation & Funeral on Tuesday, April 26, 2022 from 6-8 PM and Wednesday, April 27, 2022 from 10-11 AM at the Falco, Caruso & Leonard Pennsauken Funeral Home, 6600 N. Browning Road, where a Funeral Service will be held at 11 AM. Interment will follow at Arlington Cemetery in Pennsauken.
Share Your Memory of
Narciso