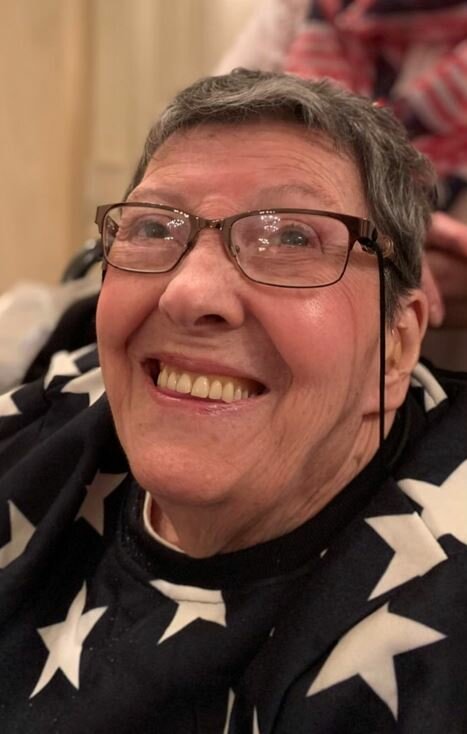 Obituary of Anita Procacci
Anita (Annie) Louise Procacci, died peacefully in Daytona, FL on April 20, 2022. She was 83. Born with special needs in south Camden, NJ on March 5, 1939, Annie was not expected to live long past infancy. Later, her doctors told her parents, Luigi and Anna Procacci, that she would not live past 50.
Annie proved all the doctors wrong. She lived a life full of curiosity, adventure, and love.
She grew up in a large Italian family, the youngest of nine children. Annie is predeceased by Rose Cinelli (Rudolph); Cataldo Procacci (Josephine); Michael Procacci (who died at any early age); Nancy Johnson (Arvid); Anthony Procacci (Venia); Mary Gould (Thomas); and Michael S. Procacci (Kathleen); and her sister-in-law Rose Procacci. She is survived by her last living sibling, James Procacci.
Family:
Family meant everything to Annie. She was lucky to have been surrounded by family for her entire life. Annie grew up alongside many of her nieces and nephews, some of whom were only a few years younger than she.
As her parents aged and could no longer provide the level of care that Annie needed, they enrolled her in a facility in Vineland where she could receive specialized help. But after a few years, her sister and brother-in-law, Mary and Tom Gould, knew that what Annie really needed most was family.
The Gould family became Annie's primary caretakers. Mary became a surrogate mother to Annie, and Tom treated his sister-in-law like royalty. Annie grew up alongside Mary's children, Kathy, Tommy, and Sherri, who were only a few years younger than Annie.
And although other relatives would occasionally take in Annie for a few days while she was visiting, it was Mary, Tom and generations of the Gould family who provided ceaseless caretaking throughout her entire life. Three days before she died, Tommy brought her Communion on Easter Sunday, as a final gift to his aunt.
Over the years, Annie would travel to visit with her many nieces and nephews in New York, New Jersey, and Florida. She loved spending time with them in their homes and at the Jersey Shore.
She also loved to write letters and cards to all of her relatives and friends. She never forgot a birthday – and never let you forget that her birthday was March 5! Her messages always included sweet words like "I love you with all of my heart." And her letters were often stamped with the words: "Have a happy day."
Travel and US Presidents:
She loved holidays and vacations because that meant she could spend time with extended family. She traveled to many places including New York, Florida, Boston and she went on two cruises. Her two favorite vacations were Hawaii and Washington, DC. In Hawaii, she saw all of the sights with her sister Mary and her nieces. In Washington DC, her nieces joined her for her 80th birthday.
As they walked into Ford's Theater, Annie recited history about the family of Abraham Lincoln that was unfamiliar to the rest of her touring companions. She recognized members of the Lincoln family that no one else on the tour knew.
She never stopped learning and being curious about the world. She read voraciously, especially books about history and the US presidents, whom she could name – in order – from George Washington to Joe Biden.
Her favorite president was John Kennedy, and she was grief-stricken when he was assassinated in 1963. On her trip to Washington, she was thrilled to pose in the White House next to Kennedy's official portrait. Annie also visited the John F. Kennedy Museum on a trip to Boston.
Annie's loves – plus the one thing she did not like:
Annie never stopped being curious about the world. She loved going to the library, where she would often take out four books when she was younger: two on the US presidents and two on the Miss America Pageant.
Anita Louise Procacci was the biggest fan of Miss America. She never failed to watch or read about the Miss America Pageant. Every year, her niece Diane would get her a program from the pageant when it was held in Atlantic City. Annie will be buried with one of her Miss America programs.
Annie could recite from memory every winner of the pageant in its history. If you told her a year, she could give you the name and state from which the winner hailed. She had an enormous collection of Miss America memorabilia. She loved talking about all of the winners over the years.
Annie also loved Lucille Ball and the I Love Lucy show. She traveled to Jamestown, NY, the hometown of Lucille Ball, to visit the Lucy Desi Museum. She could watch reruns of I Love Lucy endlessly, and laugh out loud. (She could also sit with her nephew Tommy and watch The Three Stooges and laugh out loud with him!) Annie will be buried with her Lucy blanket.
Her brother Mike, a jazz fan, introduced her to the music of Stan Kenton, the popular jazz artist. Annie loved to listen to her Stan Kenton CD. A few years ago, she was thrilled to be able to attend a concert of Stan Kenton's band. A Stan Kenton CD will be placed in the casket with Annie.
Annie loved so many activities and things. She enjoyed visiting the library, and getting her hair and nails done. But if there was one thing she didn't like, it was pennies. She detested pennies! She would give them to her nieces and nephews, because, she said, pennies would weigh down her wallet and make it too heavy to carry. Over the years, Annie's probably given away hundreds – if not thousands – of pennies!
Annie enjoyed doing many different activities. But her favorite excursion was going to church. She loved Jesus and had a favorite picture of Jesus framed in her room. She prayed frequently. Her faith was strong. On Easter Sunday, a few days before she died, her nephew Tommy brought her Communion because she was not able to go to church. With that final act of faith, she was at peace.
Advocacy and Letter Writing:
Annie used her sharp mind to write to elected officials of both parties to advocate for herself. Her letters got the attention at the highest levels of government. When gas prices spiked several years ago and her health aide was unable to afford to drive her to work, Annie lost her job.
Immediately, Annie wrote to then-governor Rick Scott in Florida and explained her dilemma: Gas prices were too high, and she wanted to work. Could the governor help her get her job back and also help her get transportation?
A few weeks after she sent her letter, the governor's office called. Everyone in the home was shocked. The governor's staff was so moved by her letter than they found her another job and arranged for reliable transportation for her so she could work.
Even days before she died, Annie was reaching out to elected officials to express herself and to ask for what she needed. In fact, two days before she died, she wrote a 3-page letter to Florida Governor Ron DeSantis, to ask for pictures of him and his family, and to share details of her life. Her memory was sharp and her mind was lucid, right up to the end.
In the end:
Almost 10 years ago, Annie wrote a letter to her family, expressing her final wishes when she died. She did not want to be cremated. She wanted a funeral Mass. She asked to be buried at Calvary Cemetery with her mother and father.
And until the end, Annie had a strong will to live. Her feeding tube was taken off at Christmas 2021, and she was not expected to live much longer. But she survived until several days after Easter 2022, when she died peacefully at her home in Florida.
Annie never held a grudge. She never judged a soul. She had a heart as big as a giant. The world could benefit from following her example.
Funeral Arrangements
Funeral Mass will be held at 10:00am on Monday May 2, 2022 at Mary Queen of All Saints Church (St. Cecilia) at 4824 Camden Ave., Pennsauken, NJ 08110. Burial will follow immediately at Calvary Cemetery, 2398 West Marlton Pike, Cherry Hill, NJ. In lieu of flowers, donations in Annie's name may be sent to Mary Queen of All Saints Church at the address listed above.
Mass
10:00 am
Monday, May 2, 2022
Church Of Mary Queen Of All Saints
4824 Camden Ave
Pennsauken, New Jersey, United States
Final Resting Place
Calvary Cemetery
Rt. 38 and Rt. 70
Cherry Hill, New Jersey, United States
Share Your Memory of
Anita