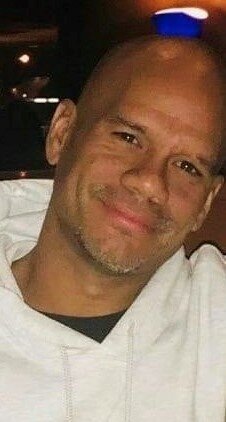 Obituary of Angel L. Diaz-Serrano
Angel L. Diaz-Serrano, age 48 of Philadelphia, formerly of Camden, passed away on May 9, 2022.
Angel was born in Ponce, Puerto Rico and moved to Camden, New Jersey in June of 1988. While in High School he became an apprentice roofer. This became his passion. Establishing ALD Contractors was his greatest life achievement. Through the support of his wife, he beat personal odds and pushed his limits. He was in disbelief of his capabilities, and this is what fueled his motivation. ALD Contractors became the center of his world and he worked day and night to see its progression. Even through sickness, he would rise out of bed, put those roofing clothes on and conquer the day. Putting his health first, his wife would remind him that it is okay to take some needed time off. He refused. He couldn't stand to see his business suffer. He would insist he was just "supervising" during these times, but we all knew he wasn't just watching the guys. As long as he was breathing, he was on that roof.
His mother was dearest to him and he spent his life honoring her. As an adolescent, he took on the role as the man of the house. New to America, he felt it was his obligation to support his family in this foreign land and he never looked at it as a chore. He never complained. At the tender age of 16 years old, he made it happen any way he could. On payday, he would take his sealed envelope of weekly earnings and place it in the hands of his mother. Without batting his eyes, he surrendered his check in full to aid his family. Everybody around him felt this kind of unconditional and unchanging love. His sisters and brothers meant the world to him and that did not stop when his nieces and nephews were born. He became a second dad to them as the role he played in their lives brought everlasting joy. He will live on through his sons, Christian and Angiovanni. For them, his love overfloweth. He would climb the highest peak for these boys. As he didn't have everything growing up, he made sure they never wished for anything. He never wanted to disappoint them. If it was the latest game, playstation, or Xbox, AJ had to have it! He depicted the perfect balance of discipline and love as a father and through his legacy, that is exhibited.
His life prepared him to be the greatest husband. As my top supporter, confidant, and advisor, Angel became what I needed most as a wife. The calm through the chaos and the light through the storm. My achievements today would not have been possible without him by my side. Even when things got tough and I thought there was no way out, he would say to me, " Babe you stress every time and always end up with an A; I am not worried, you always got this!" He became my greatest cheerleader. To Angel, there was nothing I couldn't do. My happiness was his happiness. He would take his shirt off his back to give me whatever I wanted. As a step father to my children, he took charge and stood in the gap. He never separated his love for them or hesitated to provide their needs and wants. Upon meeting, his mother told him, "These are your daughters now! These are my granddaughters!" He lived up to that and never once made them feel alienated. They became the daughters he always wanted. He did more than the title required and became one of their proudest supporters. He always showed up and was just as excited to see them reach their milestones. Their childhood was full of family trips and gatherings. From Disney World, to Busch Gardens, to lakes and parks, and random road trips; we are left with so many memories. He made sure to set the bar high in every way. Even in his last days, Aisha's prom and graduation was on the forefront of his mind.
Anyone who encountered Angel would have the same testimony of unwary love. His heart was pure. He always put others before himself. Seeing others happy made him happy and this intention is what kept him living. In a world that could be so cruel, he was a reminder of love. We have lost a very good man, but have gained ourselves a Guardian Angel.
Beloved husband of Portea Keita. Loving father of Christian Diaz and Angiovanni Diaz and stepfather of Fanta Keita and Aisha Siryon. Dear brother of Angel Diaz Jr., Luis A.Diaz, Carlos Diaz, Julio Diaz, Marilina Diaz, Angela Diaz, Marta Diaz, Marlina Diaz, Marangellis Diaz, and Suhey Diaz. Also survived by many loving nieces and nephews.
Relatives and friends are invited to the Visitation & Funeral on Wednesday, May 18, 2022 from 9-11 AM at the Falco, Caruso & Leonard Camden Funeral Home, 3425 River Road, where a Funeral Service will be held at 11 AM. Interment will follow at Morgan Cemetery in Cinnaminson.
Visitation at Funeral Home
9:00 am - 11:00 am
Wednesday, May 18, 2022
Falco/Caruso & Leonard Funeral Home
35th And River Ave
Camden, New Jersey, United States
Funeral Service
11:00 am
Wednesday, May 18, 2022
Falco, Caruso & Leonard Funeral Home
3425 River Road
Camden, New Jersey, United States
Final Resting Place
12:45 pm
Wednesday, May 18, 2022
Morgan Cemetery
Cinnaminson Avenue
Cinnaminson, New Jersey, United States
Share Your Memory of
Angel