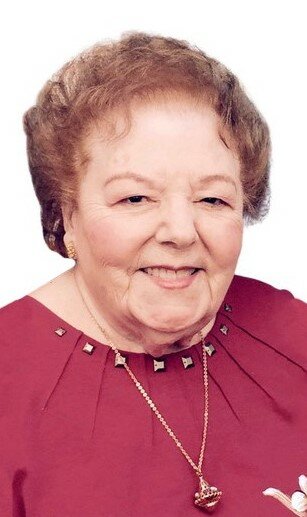 Obituary of Ida Masso
On Monday, June 27th, 2022, Ida (Idolina) Masso (nee Blasi), age 98, of Cherry Hill, NJ passed peacefully amongst her family. Beloved wife of the late Rudolph (Rudy) Masso, married 61 years. Devoted mother of Frank (Connie), Ernest, Vincent (Donna), and the late Aldo. Loving grandmother of Anthony, Christopher (Annette), Marc (Rosemarie), Nicholas (Kerry), and Marisa. Great-grandmother of Anthony, Francesca, Isabella, and Kayla.

At the age of 14, Ida came to this country from Abruzzo, Italy with her mother, Elvira, and sister Emilia, in 1939, to join her father, Francesco Blasi, who settled in Camden, New Jersey many years prior to create a foundation, career, and home fit to welcome his wife and children.

Ida, by now 19, was known as the 'Italian Girl' in Camden, as she spoke very little English and maintained her beautiful Italian accent. Married at the same age of 19, Ida was a very talented seamstress before and during the war and went from creating evening gowns to sewing clothing for the WACS.

As their family was growing with children, Ida and Rudy acquired and enhanced the family business, a grocery store and butcher shop in Camden, NJ, where they both worked, side by side, for numerous years. Ida was renowned for her cooking! Everyone always knew there would be plenty of "homemades," and she was famous for her signature recipes, such as, fritta de latte, meat ravioli, and especially her delicious gnocchi, of which there was always room for "just one more" serving. She also created one mean stuffed olive!

"Mom," was devoted to her family, children, friends, and an active member of the Catholic Church. Ida had so many dear, beloved friends, with whom she loved sharing a good story, a good laugh, and playing cards. She lit up any room she entered! Her signature every day style was nothing less than impeccable, dressed from head to toe, always with a little "sparkle." It was equally important to her that her children were always well-dressed and she prided herself in her ironing skills, which she did with perfection. Ida enjoyed reminiscing about her childhood in Italy and could tell a story like no other.

Ida could "tell it like it is," but always with a gentle loving touch. Her beautiful smile, contagious laughter, and sassy, fun-loving spirited ways, only complimented her warm heart, generosity, and devotion to faith and family. She will live on in the hearts of all those she touched with her love.
The family extends their sincere gratitude to Zoya Batrynchk, Ida's caretaker and friend, who has provided invaluable care, by her side for many years. Thank you to Teresa Reed and all the support from Samaritan Hospice.
Relatives and friends are invited to the Visitation and Funeral on Friday, July 1 from 6 to 8 PM and Saturday, July 2 from 8:30 to 9:30 AM at the Falco/Caruso & Leonard Pennsauken Funeral Home, 6600 N. Browning Road. Mass of Christian Burial will be celebrated at 10 AM at the Church of St. Peter, 43 W. Maple Avenue in Merchantville. Entombment will follow at Calvary Mausoleum in Cherry Hill
In lieu of flowers, donations may be made in her name to Samaritan Hospice, P.O. Box 71425, Philadelphia, PA 19176.