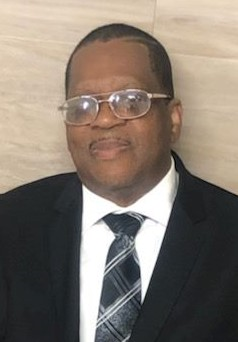 Obituary of Bishop James C. Brewer
James C. Brewer transitioned in victory to be with Lord on Saturday, March 25, 2023 surrounded by friends & members of the church family. He was born on May 29, 1948, at the Harlem Hospital in NYC. He was one of three children born to the late James "Jimmy" Christopher Brewer and Lena Ruth Brewer. He lived and went to school in Brooklyn, NY but often spent time with his grandmother in Virginia. It was during one of these visits that he was born again at the Temple of Christ Church in Fairmount, West Virginia, where he repented of his sins and was baptized in the name of Jesus Christ and three days later, he received the gift of the Holy Ghost in August of 1962 and a prophetic utterance that he had been ordained for ministry.
In September of 1962, he returned to New York City and became a member of the Kings Chapel Assembly from 1962-1976 under the ministry of Bishop Thomas Streitferdt. It was there that Bishop Brewer served as Junior Deacon, head of Evangelism, head of the printing department, head of the men's ministry, vice president of the young people's department, member of the cooking staff where he held his own amongst professional chefs. He was a choir member, and song leader for Sunday services. He also sat on the official ministerial board of the church. He was noted for being one of the "Metropolitan Singers" who were recognized on the East Coast for their melodic sound. All while continuing to pursue his education, graduated, and working in retail.
It was June of 1976 when Bishop James C. Brewer was installed as Pastor of Morningstar Pentecostal Church of the Apostolic Faith, P.A.W. by Bishop Thomas Streitferdt. He began to work in various schools in the city of Camden and began to minister to the youth of Camden. He worked with the city and promoted programs which allowed him to put the youth to work, which allowed him to teach them work ethics and to keep them out of trouble. It was during this time; that he also started a feeding program where he would feed the youth lunch. There are many who have shared that Bishop Brewer taught them to drive, tie a tie, gave them their first job, and other various needs while ministering the Gospel as well.
It was this love for the youth that caused Bishop Brewer to participate in the Big Brother program to mentor young boys in need. It was here he met two youths who he then fostered for several years: Angel & James.
It was also during this time in 1994 that Bishop Brewer with the support of the church purchased a bigger builder for Morningstar and moved us from the original location at Front St to the current location on South 9th Street. Bishop Brewer continued to remain faithful in the church and within the New Jersey District Council & help build it. He loved the people of God and would often sacrifice to ensure the people and the church would grow and prosper.
In 2005, he was instructed to become a father to those God had put in his care. Further instructions came the next year to pour in water and pour out wine. With this vision and the help of our late Assistant Pastor, Elder Derrick Carter, the church saw the need to train young men and women in ministry. Bishop Brewer has endeavored to teach us the ministry of deliverance, prophetic ministry, and spiritual gifts. His focus was to help to build up the saints, for it was his perception that we have to produce ministers who are both gifted and are possessors of the character of Jesus Christ.
Our pastor has also served as Suffragan Bishop in the Eastern Caribbean Council under the direction of Bishop Leo C. Smith, Diocesan where they assisted several churches in Puerto Rico for several years until he transferred to become a Suffragan Bishop in the NJDC.
Within the NJDC, our pastor served as the Vice-Chair of the NJDC for 8 years, Chairman of the NJDC for 9 years and countless years as the Coordinator for the New Jersey District Council(NJDC). He also served as District Bishop over District # 3 of the NJDC PAW, Inc.
While Bishop Brewer never married and had any biological children, he devoted himself to those who needed a father figure in their lives and became a surrogate father to so many; including most of the Morningstar church- both past and present. Those who knew him knew him as one who loved to laugh and the members of the church were often subjected to various pranks in his younger years. He loved to eat, and even as he got older, he would often take the young people out to the movies and out to eat. He was a man who was faithful to the things of the God, committed to the mission of God and loyal to the people of God.
He was preceded in death by his parents: James "Jimmy" Christopher Brewer and Lena Ruth Brewer and his siblings: Jocelyn Brewer and Darryl Brewer.
He leaves to cherish his memory: his spiritual daughter and caretaker, Daphne Phillips (Chris); his youngest sister, Jennifer Brewer Rice (Richard), his beloved aunts, Isabella Grubbs & Zada Gaines, his nephews, Brandon Sierra & Richard Rice II, and nieces: Chanel Purnell (Randolph) & Nyema Rice, a host of cousins who were more like brothers & sisters, spiritual sons and daughters and his church family & friends.
Relatives and friends are invited to the Visitation & Funeral on Wednesday, April 5, 2023 from 6-8 PM at the Falco, Caruso & Leonard Pennsauken Funeral Home, 6600 N. Browning Road, and on Thursday, April 6, 2023 from 9-11 AM at the Antioch Baptist Church, 690 Ferry Ave in Camden. A Homegoing Celebration will be held at 11 AM on Thursday at the Church. Interment will follow at Lakeview Memorial Park in Cinnaminson.
As an expression of sympathy in lieu of flowers the family welcomes donations to Morningstar Pentecostal Church at 1464 S. 9th Street, Camden, NJ 08104
Visitation at Funeral Home
6:00 pm - 8:00 pm
Wednesday, April 5, 2023
Falco/Caruso & Leonard Funeral Home
6600 Browning Rd.
Pennsauken, New Jersey, United States
Visitation at Main Service
9:00 am - 11:00 am
Thursday, April 6, 2023
Antioch Baptist Church
690 Ferry Ave
Camden, New Jersey, United States
Funeral Service
11:00 am
Thursday, April 6, 2023
Antioch Baptist Church
690 Ferry Ave
Camden, New Jersey, United States
Final Resting Place
1:00 pm
Thursday, April 6, 2023
Lakeview Memorial Park
US Highway No. 130
Cinnaminson, New Jersey, United States
Share Your Memory of
Bishop James