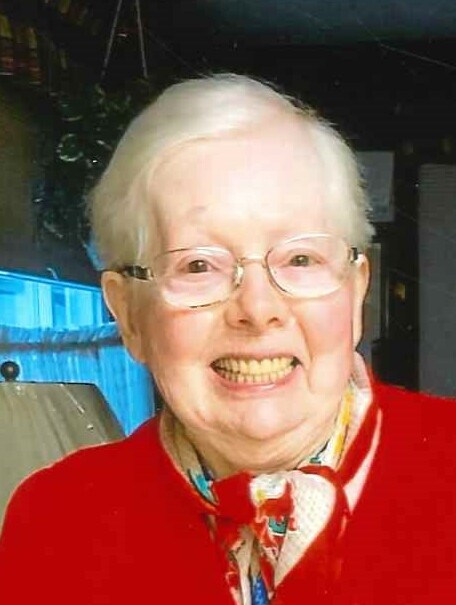 Obituary of Jean Guidara
Jean Guidara (Nee Wilson), born in Glasgow, Scotland in 1927, entered into eternal peace on April the 1st of 2023.
Loving wife to Joseph Guidara (1919-2009) for 63 memorable years.
Predeceased by her sisters, Rachel, Agnes, Ella and her father "Big Charlie" and her mother Jean.
Survived by her devoted daughters, Jean Gallotti (Arthur), Sandra Caputi (Paul) & Lori O'Neil (Ben) and foster mom to Lori Ramsell (Jim). Doting and proud grandmother, "Mom Mom", to Joseph Caputi & Lily O'Neil.
Mom was known for her unforgettable wit, style & enthusiasm and was very much loved and admired by her family and friends. She lived a long and full life; filled with Irish set dancing, sewing, trips to her favorite beaches: Ayr, on the East coast of Scotland and the many Summers spent on Long Beach Island, NJ.
After immigrating to the United States in 1946 she soon met and married the love of her life, Joe Guidara. They settled down in Merchantville, NJ and for the next 76yrs they built a life together where they raised their children.
Mom loved everything about clothing and fabrics, she worked as a professional seamstress and at home would sew our hems and cuffs, fixing buttons and making any alterations needed. She used her skill and tricks of the trade to make our clothes look flawless and expensive. Mom had an eye for style and loved a good Scottish tartan. She will always be remembered for her sewing creations and many of her other talents, including her proper table settings which always included a white tablecloth and silverware placed where etiquette demanded. We will never forget her stories about her early years and family in Scotland. Mom also had her special recipes of homemade French fries and fried flounder and her spaghetti and meatballs which was taught to her by her Italian Mother-in-law. All were delicious.
Politics were important to mom, she became a US citizen in 1957 in order to vote for John F Kennedy and had voted in every election thereafter from the local School Board to all Presidential elections. Even when traveling she made sure that her absentee ballot was submitted on time. Her Scotland Clan would jokingly refer to her as Yankee Jean. Never forgetting where she came from, Mom proudly held both her Scottish & U.S. dual citizenship.
Education was equally as important to mom. Setting early goals for their daughters to make sure they graduate from college. All three daughters went on to receive BAs, and Jean, an MA. With strong "Jeans" her grandchildren continued that legacy, Joseph graduated with a BA from Xavier and Juris Doctorate from Villanova and Lily will soon graduate from Endicott this year, earning a BS in Biology Biotechnology. Lily's college graduation will be the only graduation Mom will have ever missed.
The last two years of Mom's life were spent living with her daughter Jean, in Connecticut and daughter Sandra, in New Jersey. Between the two, she enjoyed her country house and her city house where she loved to sit and watch the birds and animals. Spending her time enjoying all that nature had to offer, the beauty she found in trees, in the sky and in the flowers, and her country cat Max. Even at 95, mom was faster than the Amazon Alexa when it came to spelling and spent her last few years laughing and dancing the night away.
Mom will be forever remembered for her unforgettable facial expressions, no words spoken but you definitely understood the meaning. Moms' inspiring commitment to her family, enthusiasm for life and that unforgettable wit will be missed by everyone.
Watch over us Mom and Mom Mom, please continue to take care of your family and friends.
Our entire family wishes to extend our sincerest thanks to Ennoble Hospice. Thank you for your kind words, patience & guidance.
Relatives and friends are invited to the Visitation and Funeral Home on Thursday, April 13, 2023 from 6-8 PM and Friday, April 14, 2023 from 9-10 AM at the Falco/Caruso & Leonard Pennsauken Funeral Home, 6600 N. Browning Road. A Funeral Service will be held on Friday at 10 AM at the Funeral Home. Interment will follow at Calvary Cemetery in Cherry Hill.
In lieu of flowers, memorial donations may be made to Camden Catholic High School, 300 Cuthbert Blvd Cherry Hill, NJ 08002 OR Irish Center, Commodore John Barry Arts and Cultural Center in care of John Shields, 6815 Emlen Street Philadelphia, PA 19119.
Share Your Memory of
Jean