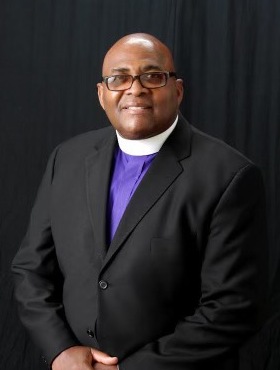 Obituary of Gus Swain Jr.
Bishop Gus Swain, Jr was born on February 15, 1952, in Moultrie, GA to Gus Swain, Sr. and Louise Marie Swain.
In 1955 his family moved to Camden, New Jersey where he attended the Camden School System, graduating from Camden High School in 1970. From 1970-71, Gus attended Milwaukee School of Engineering in Wisconsin, and in 1986 the American Business Institute, where he received an associate's degree in business, and was class salutatorian.
In 1972 Gus gave his life to the Lord Jesus Christ, was baptized in Jesus's name, and received the gift of the Holy Ghost. Gus became a member of El Bethel Church of Christ under the leadership of the late Pastor Gaybrella McClellan. He served faithfully for many years as Deacon, Sunday School Teacher, Sunday School Superintendent, Choir Member, and Church Treasurer. He was later ordained as an Elder. This calling led him to be elevated in 1983 to the office of District Elder in the Pentecostal Churches of the Apostolic Faith (PCAF). In the Eastern and Southern States Council, Elder Swain served as Youth Treasurer, Council Treasurer and National Youth Financial Officer.
On February 17, 1973, Gus married the love of his life, Loree Marcia Tribbett. From this union God blessed them with four beautiful children: Gus III, LaDora Sherice, Anetra Rochelle, and Maurice Lamont.
Gus received the call to pastor in December 1990 and established New Life Church Ministries, Pennsauken, New Jersey. He faithfully taught, mentored, and preached to many souls for 32 years.
After being employed by Ford Motor Company for over 25 years, Gus heard a message entitled "Business as Usual is No Longer Acceptable". This sermon moved him to leave Ford Motor Company to become a fulltime pastor.
Gus was later consecrated as Bishop in World Assemblies of Restoration (WAR) under the leadership of Bishop James David Nelson Sr. and served as Treasurer. He was honored by the International Apostolic College of Grace and Truth with a Master of Theology and a Doctor of Divinity Degree. He traveled around the world preaching the gospel and proclaiming the good news, ministering in Ghana, West Africa, Trinidad, West Indies and throughout the USA. Gus taught many marriage seminars and hosted a married couples' fellowship dinner in his home annually.
Gus loved fishing and cooking and was a master chef in the kitchen. He was a great fisherman, and God made him a "Fisher of Men". He also enjoyed traveling, vacationing often with his family and friends.
Pastor Swain served as the chair of the Camden Advisory Committee and was a board member of the Camden Coalition of Healthcare Providers. He was an advocate for his community and helped those in need by initiating the Safe Haven Summer Program, Thanksgiving basket give-a-ways, and feeding the homeless. He hosted soup kitchens, organized Christmas donations to shelters, and catered staff luncheons for Camden City schools. Gus prided himself on serving others, and his ministry represented that focus as "The Church that C.A.R.E.S (is Concerned About Reaching Every Soul").
Bishop Swain was all about the unity of people. He created and organized a yearly gathering of churches—The Power of His Resurrection Celebration, which included a fellowship of several churches in New Jersey and surrounding areas.
On Thursday, May 4, 2023, at a hospital in Elmhurst, IL, the Almighty called Bishop Gus Swain, Jr. from years of labor to eternal reward.
He leaves to cherish his memories, his wife of 50 years, Loree; two sons: Gus Swain III and Maurice Swain; two daughters: LaDora West and Anetra Swain; one bonus son: Charles West; three bonus daughters: Vania Swain, Syreeta Swain and Mercedes Franklin; eight grandchildren: Dion Daniels, Joshua Johnson, Devonte Greene, Kiana Greene, Carl Berry, Arden Coleman, Kaira Swain, and Sean Swain; one sister: Gwendolyn Swain; three bonus sisters: Cheryl Stevens, Neicy Tribbett and Mina Tribbett; three bonus brothers: T. Tyrone Tribbett, Sr., John James and Donald Stevens; one nephew he took under his wings: Brandon James; two godsons: Erik Tribbett and Gerald Mickens; six uncles, and a host of cousins, nieces, nephews, and friends.
Relatives and friends are invited to the Visitation and Funeral on Friday, May 19, 2023 from 6-8 PM at the Falco/Caruso & Leonard Pennsauken Funeral Home, 6600 N. Browning Road and Saturday, May 20, 2023 from 9-10 AM at Impact Live Church 2901 Chapel Ave Cherry Hill, NJ. A Funeral Service will be held at the Church on Saturday at 10 AM. Interment will follow at Harleigh Cemetery in Camden. In lieu of flowers, the family would like memorial donations to his wife Loree.
Celebrating the Life of Bishop Gus Swain Jr.
God has blessed him with 71 years:
50 years as a loving and devoted HUSBAND
49 years as an awesome FATHER
32 years as a faithful and dedicated PASTOR
To God be the Glory!
He has fought a good fight.
He has finished his course.
He has kept the faith.
A job well done!
Rest my LOVE.
Rest DAD.
Rest POP-POP.
Rest my BROTHER.
Rest MAN of GOD.
Lovingly Submitted,
The Family
Visitation at Funeral Home
6:00 pm - 8:00 pm
Friday, May 19, 2023
Falco/Caruso & Leonard Funeral Home
6600 Browning Rd.
Pennsauken, New Jersey, United States
Visitation at Main Service
9:00 am - 10:00 am
Saturday, May 20, 2023
Impact Live Church
2901 Chapel Ave
Cherry Hill, New Jersey, United States
Funeral Service
10:00 am
Saturday, May 20, 2023
Impact Live Church
2901 Chapel Ave
Cherry Hill, New Jersey, United States
Final Resting Place
1:30 pm
Saturday, May 20, 2023
Harleigh Cemetery
Haddon Avenue
Camden, New Jersey, United States